You missing the sound of Niki's voice while you wait for Episode #7 to come out next week? I thought so! Here you go, check out her appearance on 20 Questions with Colin Oakes.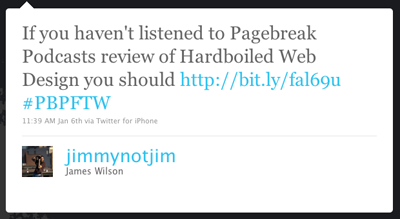 Congratulations to @jimmynotjim, James Wilson from Boston, MA!
You're the winner of the Hardboiled Web Design PDF Book giveaway! :) Hope you enjoy the read as much as Niki and I did!
Thanks to everyone who followed us on Twitter during the contest — and I hope that if it was this giveaway that made you aware of the podcast that we have been able to win you over as a regular listener! ;)
We are looking to do more book giveaways in the future, so stay tuned!
Back in November the author of Hardboiled Web Design was on The Big Web Show and he has some really interesting ideas! If you haven't read the book at all, this video could be a good introduction for you to some of his ideas about web design. Check it out!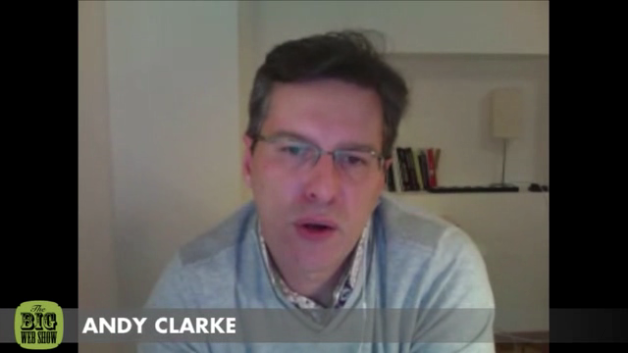 Also we'd like to get you guys involved in the show! If you have questions for Andy about being Hardboiled… or for Niki and me about the book — send tweets to @pagebreakpdcst!
Andy Clarke at DIBI Conference 2010 – Hardboiled Web Design from Herb Kim on Vimeo.
Andy Clarke speaking at the DIBI Web Conference on the 28th April 2010 at The Sage Gateshead in the North East of England.
Andy talked about Hardboiled Web Design, the pre-cursor to his now released book which you can get from Five Simple Steps.
Audio and slides available here.
Yesterday we recorded episode #4 and here is the evidence on our Flickr pages.
Niki is a drunk, so she had a beer while we recorded, but that's OK cause she's on Eastern time. Being as I am 3 hours behind her, I was still drinking coffee… maybe that explains these crazy eyes in my photo?
Niki and I will not be releasing a Snippet this week. Here in the United States we are gearing up to celebrate Thanksgiving, which means both of need ample time to stretch out stomachs for the bounty of grub that is about to invade our gullets! (Plus we need to finish reading "Speak Human"!)
This video should get you warmed up for this weeks upcoming episode, enjoy. :)
Over the month we've got on board with some of the social networks so that we can stay in touch with those of you listening to Pagebreak Podcast, take your pick at which network works best for you – and if there is an online community you think Pagebreak Podcast should be a part of, let us know about it!
Follow us on Twitter!
Like us on Facebook!
Become friends with Liz and Niki on GoodReads and join the Pagebreak Podcast group on GoodReads!