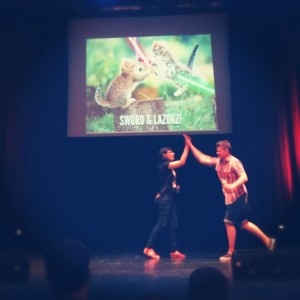 Yesterday the two of us got to take the stage at St. Petersburg, FL's Palladium Theater stage and talk to the awesome group of designers and developers that showed up for day 2 of this years FrontEnd Design Conference. I wish we had thought ahead and had someone video us up there, but all we have is this awesome pic of our high-five mid talk.

It was titled How Side Projects Can Save Your Creative Sanity — so we talked about 2 kick ass chicks that do kick ass side projects (Jessica Hische's Daily Drop Cap and Megan Seling's Bake It In A Cake) then we talked about Pagebreak — gave away a book, gave away some beers — shared some laughs and had a blast!
Thank you to everyone who sat through it and everyone who has been so encouraging this weekend about the podcast. We love you guys!
Thank you to all of Day 1's presenters who thoroughly inspired and entertained us (stay tuned for Snippets on select talks.)
Front End Design Conference 2012 from Javier Fick on Vimeo.
frontenddesignconference.com
amoreventplanning.com
Highlight video of a webdesign conference event dedicated to content, presentation, behavior and to the awesome people in the design and development community.
Song: Passion Pit – Sleepyhead (Le Chev Remix)
A super big thanks for the organizers of The Front End Conference, Dan Denney and Cherrie Denney!
3 Responses