Audio clip: Adobe Flash Player (version 9 or above) is required to play this audio clip. Download the latest version here. You also need to have JavaScript enabled in your browser.
(Episode listen time -  11:09 - download mp3)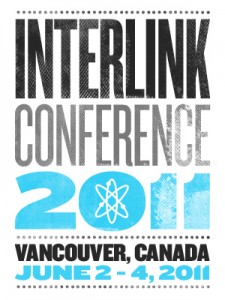 Well, it ain't any part of the "official" conference events, BUT Niki and I will both be in Vancouver this June for the Interlink Conference and while in town plan to record the first ever live episode. If you're going to be there and are interested in hanging out with us while we drink some beers and talk about… whatever we'll be talking about, let us know! There are still conference tickets available, and we'd love to hang out with you!
More details on this crazy idea of ours as we get close to June! :)
Audio clip: Adobe Flash Player (version 9 or above) is required to play this audio clip. Download the latest version here. You also need to have JavaScript enabled in your browser.
(Episode listen time -  11:09 - download mp3)
Hit Elliot Bay Book Store this Saturday to see Gary Vaynerchuk as he passed through town for his Thank You Economy book tour. He talked about his book and business ideas, did an extended Q&A session and signed a bunch of books. I have here just some highlights from the Q&A you guys might enjoy as you finish reading the book and Niki and I get ready to record episode #8!
Hey, Liz here… I just got some cool news I wanted to share — GoodReads is hosting a Live Video chat tomorrow with Gary Vaynerchuk, author of The Thank You Economy, the book Niki and I are reading for Episode #8. (I just FINISHED about 20 minutes ago!!!)
Gary is a very passionate and knowledgeable guy, so if you are able to make time to join in on the video chat — do it! Join Gary tomorrow — Monday, March 21st promptly at 6:30PM ET/3:30PM PST.
I'll send out a reminder via Twitter tomorrow, so make sure you are following @pagebreakpdcst
Audio clip: Adobe Flash Player (version 9 or above) is required to play this audio clip. Download the latest version here. You also need to have JavaScript enabled in your browser.
(Episode listen time -  6:12 - download mp3)
Hey everyone, if you happen to be in Austin this weekend for SxSW — be on the looking out for Niki! If you see her, say Hi!
Audio clip: Adobe Flash Player (version 9 or above) is required to play this audio clip. Download the latest version here. You also need to have JavaScript enabled in your browser.
(Episode listen time -  8:16 - download mp3)
The book for March has been selected and we'll have our noses in it all month.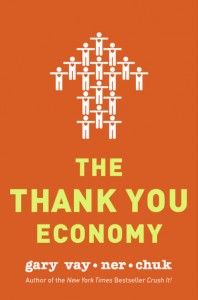 The book doesn't officially release until March 8th, but you can pre-order your copy of Thank You Economy by Gary Vaynerchuk on Amazon or get it for your Kindle and read along with us! You could also try and get your hands on the copy we will be giving away! That's right, we're giving one away!
You can listen to the show here, but we'd love for everyone to subscribe to the show in iTunes! Don't forget to leave feedback and thanks for listening! :)
It's Episode 7 and our book is Here Comes Everybody: The Power of Organizing Without Organizations by Clay Shirky. This book pick was a little bit of a different tune than our previous books, but we both got a lot of of this!
This episode is part talking about theories from the poor and part reministing about the olden days of the web.
Warning to you that we did have a few audio hiccups, so we apologize if any of this sounds a little funky!