Audio clip: Adobe Flash Player (version 9 or above) is required to play this audio clip. Download the latest version here. You also need to have JavaScript enabled in your browser.
(Episode listen time - 10:35 - download mp3)
Read More
Back in November the author of Hardboiled Web Design was on The Big Web Show and he has some really interesting ideas! If you haven't read the book at all, this video could be a good introduction for you to some of his ideas about web design. Check it out!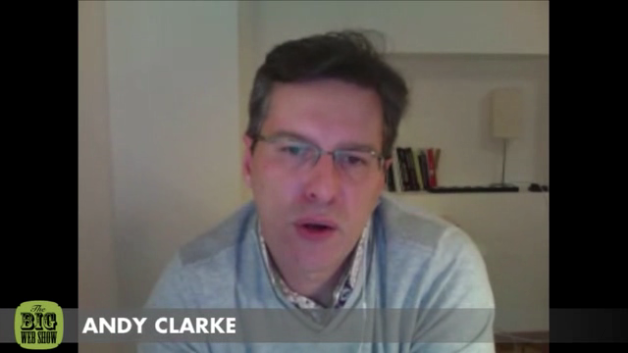 Also we'd like to get you guys involved in the show! If you have questions for Andy about being Hardboiled… or for Niki and me about the book — send tweets to @pagebreakpdcst!
Audio clip: Adobe Flash Player (version 9 or above) is required to play this audio clip. Download the latest version here. You also need to have JavaScript enabled in your browser.
(Episode listen time - 8:26 - download mp3)
Audio clip: Adobe Flash Player (version 9 or above) is required to play this audio clip. Download the latest version here. You also need to have JavaScript enabled in your browser.
(Episode listen time - 8:15 - download mp3)
Audio clip: Adobe Flash Player (version 9 or above) is required to play this audio clip. Download the latest version here. You also need to have JavaScript enabled in your browser.
(Episode listen time - 9:45 - download mp3)
Andy Clarke at DIBI Conference 2010 - Hardboiled Web Design from Herb Kim on Vimeo.
Andy Clarke speaking at the DIBI Web Conference on the 28th April 2010 at The Sage Gateshead in the North East of England.
Andy talked about Hardboiled Web Design, the pre-cursor to his now released book which you can get from Five Simple Steps.
Audio and slides available here.
The book for December has been selected and we'll have our noses in it all month.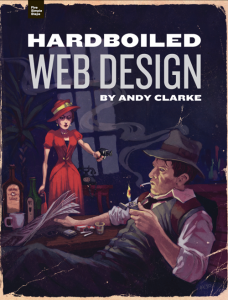 Buy Hardboiled Web Design as a PDF download now and read along with us, we'll be discussing this book during the last week of December! If you'd prefer the paperback, get your pre-order in now!
If you have suggestions for future books to be read for the show, questions for us or just something you need to say — contact us on Twitter, join our GoodReads Pagebreak Podcast group or send us an email.
Yesterday we recorded episode #4 and here is the evidence on our Flickr pages.
Niki is a drunk, so she had a beer while we recorded, but that's OK cause she's on Eastern time. Being as I am 3 hours behind her, I was still drinking coffee… maybe that explains these crazy eyes in my photo?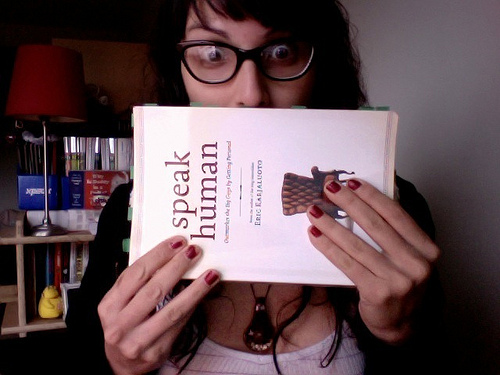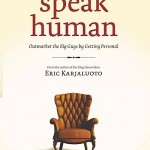 You can listen to the show here, but we'd love for everyone to subscribe to the show in iTunes! Don't forget to leave feedback and thanks for listening! :)
It's Episode #4 and we read Speak Human: Outmarket the Big Guys by Getting Personal by Erik Karjaluoto.
Random shout outs to Renee Swigert (@RibbonsofRed) and Von Glitschka(@Vonster.)
Von, if you weren't a geek in high school — we apologize! :)
Tangents on Supreme Court rulings, Happy hour cocktail specials, The Library of Congress archiving Tweets and Tattoos. (Leave a comment and let Niki know what you think of her getting a plaid tattoo!)