You missing the sound of Niki's voice while you wait for Episode #7 to come out next week? I thought so! Here you go, check out her appearance on 20 Questions with Colin Oakes.
Audio clip: Adobe Flash Player (version 9 or above) is required to play this audio clip. Download the latest version here. You also need to have JavaScript enabled in your browser.
(Episode listen time - 7:19 - download mp3)
Audio clip: Adobe Flash Player (version 9 or above) is required to play this audio clip. Download the latest version here. You also need to have JavaScript enabled in your browser.
(Episode listen time -  7:00 - download mp3)
Audio clip: Adobe Flash Player (version 9 or above) is required to play this audio clip. Download the latest version here. You also need to have JavaScript enabled in your browser.
(Episode listen time - 7:05 - download mp3)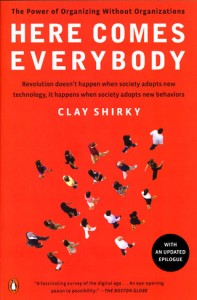 The book for February has been selected and we'll have our noses in it all month.
Buy Here Comes Everybody: The Power of Organizing Without Organizations on Amazon or get it for your Kindle and read along with us, we'll be discussing this book during the last week of February!
If you have suggestions for future books to be read for the show, questions for us or just something you need to say — contact us on Twitter, join our GoodReads Pagebreak Podcast group or send us an email.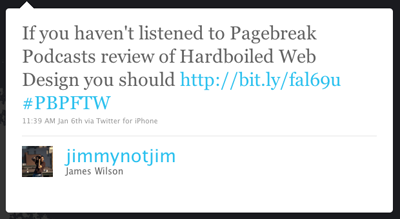 Congratulations to @jimmynotjim, James Wilson from Boston, MA!
You're the winner of the Hardboiled Web Design PDF Book giveaway! :) Hope you enjoy the read as much as Niki and I did!
Thanks to everyone who followed us on Twitter during the contest — and I hope that if it was this giveaway that made you aware of the podcast that we have been able to win you over as a regular listener! ;)
We are looking to do more book giveaways in the future, so stay tuned!
You can listen to the show here, but we'd love for everyone to subscribe to the show in iTunes! Thank you so much for listening, if you have a couple minutes - rate us or leave feedback on iTunes! :)

It's Episode 6 and our book is All Marketers Are Liars: The Power of Telling Authentic Stories in a Low-Trust World by Seth Godin. We also announce the winner of our Hardboiled Web Design Ebook giveaway!