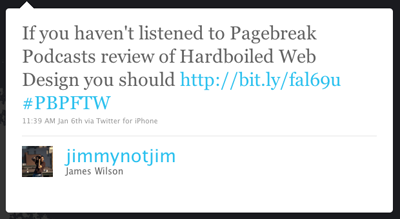 Congratulations to @jimmynotjim, James Wilson from Boston, MA!
You're the winner of the Hardboiled Web Design PDF Book giveaway! :) Hope you enjoy the read as much as Niki and I did!
Thanks to everyone who followed us on Twitter during the contest — and I hope that if it was this giveaway that made you aware of the podcast that we have been able to win you over as a regular listener! ;)
We are looking to do more book giveaways in the future, so stay tuned!
One Response