Audio clip: Adobe Flash Player (version 9 or above) is required to play this audio clip. Download the latest version here. You also need to have JavaScript enabled in your browser.
(Episode listen time -  8:10 - download mp3)
Audio clip: Adobe Flash Player (version 9 or above) is required to play this audio clip. Download the latest version here. You also need to have JavaScript enabled in your browser.
(Episode listen time -  8:32 - download mp3)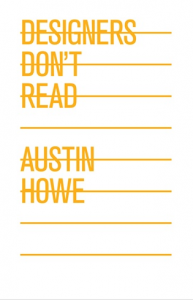 The book for May has been selected and we'll have our noses in it all month.
You can order your copy of Designers Don't Read by Austin Howe on Amazon or get it for your Kindle and read along with us!
You can listen to the show here, subscribe via RSS or subscribe to the show in iTunes! Don't forget to leave feedback and thanks for listening! :) * WARNING: couple f-bombs included.
It's Episode 9 and our book is The 4 Hour Work Week by Timothy Ferris. Thanks to Katie McElroy for sending in her thoughts on the book!
Leave a comment, or send us a message on twitter to @pagebreakpdcast.
Audio clip: Adobe Flash Player (version 9 or above) is required to play this audio clip. Download the latest version here. You also need to have JavaScript enabled in your browser.
(Episode listen time -  6:47 - download mp3)