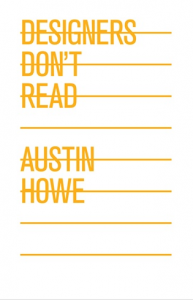 The book for May has been selected and we'll have our noses in it all month.
You can order your copy of Designers Don't Read by Austin Howe on Amazon or get it for your Kindle and read along with us!
Book Description
Designers Don't Read is a love song to graphic design and graphic designers. Howe explores the creative process and conceptualization, and delves into what to do when inspiration is lacking. Designers Don't Read is intended to function like a "daily devotional" for designers and busy professionals involved in branded communications at all levels. Begun as a series of weekly essays sent every Monday morning to top graphic designers, Designers Don't Read quickly developed a passionate and widespread following. With the approximate time each chapter might take to read, Designers Don't Read's delight and provocation can be fit into the niches in the life of a time-challenged designer. Or it may be hard to resist reading the entire book in one sitting!
If you have suggestions for future books to be read for the show, questions for us or just something you need to say — contact us on Facebook, Twitter, join our GoodReads Pagebreak Podcast group or  send us an email.