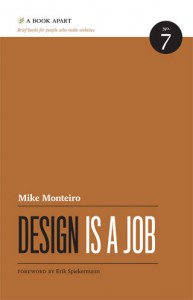 Book #19 has been selected and we'll have our noses in it for the next few weeks! You can order your copy of Design Is A Job by Mike Monteiro from abookapart.com.
Book Description
Co-founder of Mule Design and raconteur Mike Monteiro wants to help you do your job better. From contracts to selling design, from working with clients to working with each other, this brief book is packed with knowledge you can't afford not to know.
If you have suggestions for future books to be read for the show, questions for us or just something you need to say — contact us on Facebook, Twitter, join our GoodReads Pagebreak Podcast group  or  send us an email.