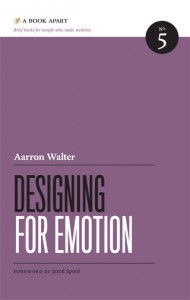 Back in August we declared "The Shape of Design" by Frank Chimero to be book #21, but 4 months later, we are sorry to tell you we will not be recording a show for that particular book. SORRY! We did however move on to a new book and will be recording a show for you very very soon! Book #21 is Design For Emotion by Aarron Walter.
Book Description
Make your users fall in love with your site via the precepts packed into this brief, charming book by MailChimp user experience design lead Aarron Walter. From classic psychology to case studies, highbrow concepts to common sense, Designing for Emotion demonstrates accessible strategies and memorable methods to help you make a human connection through design.
If you have suggestions for future books to be read for the show, questions for us or just something you need to say — contact us on Facebook, Twitter, join our GoodReads Pagebreak Podcast group  or  send us an email.