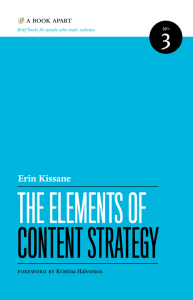 Book #14 has been selected and we'll have our noses in it for the next few weeks!
You can order your copy of The Elements of Content Strategy by Erin Kissane. Get it the Ebook or Paperback through A Book Apart and read along with us!
Book Description
Content strategy is the web's hottest new thing. But where did it come from? Why does it matter? And what does the content renaissance mean for you? This brief guide explores content strategy's roots, and quickly and expertly demonstrates not only how it's done, but how you can do it well. A compelling read for both experienced content strategists and those making the transition from other fields.

If you have suggestions for future books to be read for the show, questions for us or just something you need to say — contact us on Facebook, Twitter, join our GoodReads Pagebreak Podcast group  or  send us an email.