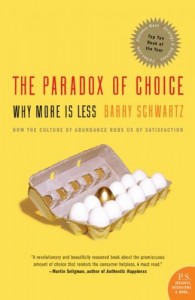 Book #13 has been selected and we'll have our noses in it for the next few weeks!
You can order your copy of The Paradox of Choice: Why More is Less by Barry Schwartz . Get it for your Kindle or Nook and read along with us, or listen to the audio book!
Book Description
Barry Schwartz aptly demonstrates that having too many things to choose from often leads to the consumer feeling bewildered when facing the choice, and less satisfied even after taking a decision. He cites studies that indicate people are less likely to buy a product when faced with too many choices.

If you have suggestions for future books to be read for the show, questions for us or just something you need to say — contact us on Facebook, Twitter, join our GoodReads Pagebreak Podcast group  or  send us an email.