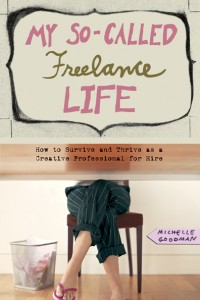 Book #11 has been selected and we'll have our noses in it for the next few weeks!
You can order your copy of My So-Called Freelance Life by Michelle Goodman or get it for your Kindle and read along with us!
Book Description
Goodman answers all of the unusual questions that may arise for women exploring the freelance world. Far more than your normal business guidebook, My So-Called Freelance Life blends candid, humorous anecdotes from a wide variety of freelancers with Goodman's own personal experiences as a creative worker for hire.Whether you're a freelance first-timer or a seasoned creative professional, copyediting queen or web guru, My So-Called Freelance Life is an invaluable resource for anyone interested in freelancing.
If you have suggestions for future books to be read for the show, questions for us or just something you need to say — contact us on Facebook, Twitter, join our GoodReads Pagebreak Podcast group or  send us an email.