The book for March has been selected and we'll have our noses in it all month.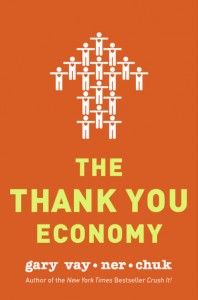 The book doesn't officially release until March 8th, but you can pre-order your copy of Thank You Economy by Gary Vaynerchuk on Amazon or get it for your Kindle and read along with us! You could also try and get your hands on the copy we will be giving away! That's right, we're giving one away!
Thank You Economy book Giveaway!
*updated March 11, 2011: Congrats to the lucky winner of this Giveaway, Nikki Jeske and a big THANK YOU to all of you who participated!
Just send out a tweet letting all your friends know about @pagebreakpdcast, with a link to your favorite episode or snippet — then comment on THIS post and include a link to that tweet. Got that?
Step one: send out a tweet letting everyone know about your favorite @pagebreakpdcst episode or snippet, something like "Check out @pagebreakpdcst snippet 16: Sketching: the Visual Thinking Power Tool http://bit.ly/gGFjYM"
Step two: Leave a comment on THIS post with a link to that tweet!
Step Three: Be sure to follow us on Twitter, Facebook or Subscribe to the blog so that you will get updates when we choose a winner! :) The lucky one will be chosen at random on March Thursday, 10th.
If you have suggestions for future books to be read for the show, questions for us or just something you need to say — contact us on Twitter,Facebook, join our GoodReads Pagebreak Podcast group or send us an email.
12 Responses