The book for April has been selected and we'll have our noses in it all month.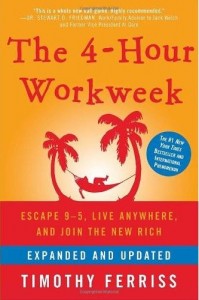 You can order your copy of The 4-Hour Work Week by Timothy Ferriss on Amazon, get it for your Kindle, or purchase the audiobook and read/listen along with us!
Book Description
Forget the old concept of retirement and the rest of the deferred-life plan–there is no need to wait and every reason not to, especially in unpredictable economic times. Whether your dream is escaping the rat race, experiencing high-end world travel, earning a monthly five-figure income with zero management, or just living more and working less, The 4-Hour Workweek is the blueprint.
If you have suggestions for future books to be read for the show, questions for us or just something you need to say — contact us on Facebook, Twitter, join our GoodReads Pagebreak Podcast group or  send us an email.