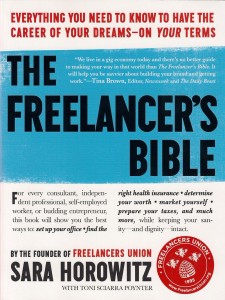 Book #23 has been selected and we'll have our noses in it for the next few weeks! It's The Freelancer's Bible by Sarah Horowitz.
Read it yourself
Get the book at Amazon in Paperback or Ebook.
Book Description
Amazingly, one-third of the American workforce is freelance—that's 42 million people who have to wrestle with not just doing the work, but finding the work, then getting paid for the work, plus health care, taxes, setting up an office, marketing, and so on. Now help is here, and consultants, independent contractors, the self-employed, "solopreneurs," and everyone else living a freelancer's life will never be alone again but instead can be part of a strong and vibrant community.
Written by the authority on freelance working, Sara Horowitz, founder of the national Freelancers Union and, most recently, the Freelancers Insurance Company, The Freelancer's Bible will help those new to freelancing learn the ropes, and will help those who've been freelancing for a while grow and expand.
If you have suggestions for future books to be read for the show, questions for us or just something you need to say — contact us on Facebook, Twitter, join our GoodReads Pagebreak Podcast group  or  send us an email.
One Response