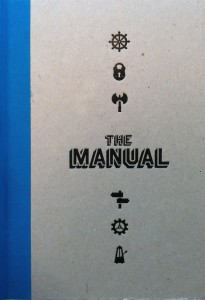 Book #18 has been selected and we'll have our noses in it for the next few weeks! You can order your copy of The Manual: Issue #2 (a collection of design-centric stories by Alex Charchar, Mark Boulton, Cennydd Bowles, Josh Brewer, Karen Mcgrane, Jon Mcnaught and Trent Walton) at  alwaysreadthemanual.com.
Book Description
The Manual captures the voices of our profession, both the well-known and the quietly working, as they bring clarity to the why of web design, share their visions, break our hearts, stretch our minds, and move us to deeper, smarter, richer work.
Our authors connect the dots we never knew existed. After heart-wrenching tragedy, a color-filled journey back as a man and designer; after one book, graphic design is diminished to fluffy pink frosting on a layer cake; after a woman goes digital, the world cracks open for her. What do archaeologists and pop cans, Texas BBQ, Miles Davis, the Hoover Dam, a silver fish, a rat, ear trumpets, and a toaster have in common? Watch as they enrich our thinking about web design.
If you have suggestions for future books to be read for the show, questions for us or just something you need to say — contact us on Facebook, Twitter, join our GoodReads Pagebreak Podcast group  or  send us an email.